In 1993 the personal differences within Mindscape reached the point of no return. I decided to leave the band and kick start a new one. I left the rehearsal room, closed the door and a couple of minutes later an old mate came around: Christoph Ullmann. Chris played already drums as a guest musician during Mindscape gigs. A short smalltalk was enough to get working together.

Bass player Peter Garreis and singer Markus Fichta saw also no future with Mindscape and joined me a few days later.

Boarding was completed: PARADOGS, a band with 4 first class musicians. The time had come for full throttle Rock'n'Roll - with more drive as an opposite to Mindscape with it's kind of "intellectual" touch and "technical" approach.
Second guitarist was abandoned from the beginning which gave me more room and opportunities. The challenge was to fill the whole space with only one guitar while keeping a foot on a gas pedal. And this changed my way of playing in a sustainable way.

PARADOGS was a highly creative phase of self-development and brilliant ideas. The peak was reached 1994. On 4th November 1994 PARADOGS played a gig in sold out AERA club (one of the largest clubs in Vienna). A live video was made to document this impressive and ass kicking evening.

But nothing lasts forever. A couple of months later, in early 1995, the band was terminated. All guys improved their skills very fast but the team spirit was lost on the way. No tears, no regrets - the end was nearly as fast as the beginning...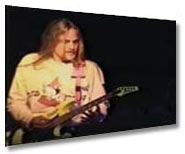 PARADOGS live in Aera club in Vienna 4.11.1994. Thanks to the fans who made this evening unique and unforgettable.

Live Band:
Tom TC - guitar
Markus Fichta - vocal
Peter Garreis - bass, backing vocals
Christoph Ullmann - drums

LEGAL NOTICE AUDIO/VIDEO/PHOTO
All rights reserved. Unauthorized hiring and lending prohibited. Unauthorized copying, public performance and broadcasting prohibited - except for promotion purposes directly concerning Tom TC.